Family Hotel in Prague
Hotel services, operation and facilities have in many respects been adapted to suit the needs and requirements of children. We have taken inspiration from some Baby Friendly hotels and are constantly improving our services on the basis of current knowledge about work with children in such a way as to ensure that our child guests can independently and safely use all of our hotel services.
Provision of services to children gives us pleasure and satisfaction from well-performed work, as children express their feelings and desires directly. We are aware of the fact that if the younger visitors to Aquapalace Hotel Prague are happy, then their parents, grandparents and others accompanying children will also be happy.
Various accommodation alternatives are available for families with children. The most popular are the unique family rooms with a large bed for the parents and bunk beds for the children. The family is together all the time and the parents can keep an eye on the children. The layout of these rooms provides the maximum of comfort for the whole family. We always have a present waiting for the children in family rooms.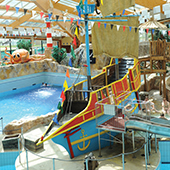 The world of fairy tales, adventure, relaxation and fun to be found in Water World at Aquapalace Praha will delight visitors young and old. Three palaces full of water attractions connected by the Fast river, lots of toboggans, slides and a pool with a wave machine – this is the largest Aquapark in Central Europe. Younger children will admire the wreck of the pirate ship, welcome the many paddling pools, water jets and children's slides.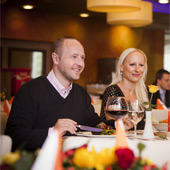 The Astra Restaurant offers a children's breakfast menu and a special daily "Baby menu", which includes pictures to colour in to give children something to do while waiting for their food. A range of buffet foods has been prepared for children with thematic buffets created using the fantasy of the chefs and confectioners in the hotel.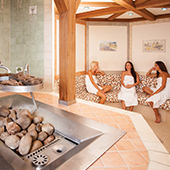 The ultimate relaxation for tired parents. We will be happy to look after your children in the children's play corner in Water World so your time here is undisturbed and you are able to enjoy it to the full. Don't worry about your children. Trained childcare assistants will entertain them so much that they won't want to leave.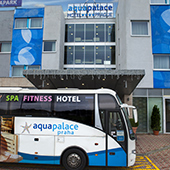 We establish contact with the children as soon as they arrive at the hotel with the children's "Check in" system, when they can use the step stool at reception to see what the receptionist is doing and help their parents to check in. Work should always be rewarded, so if a child actively participates in the children's "Check in" system, they receive a welcome gift.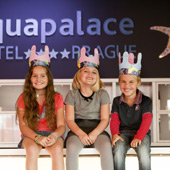 Hotel lobby
Children are welcomed by a colourful ZOO corner in the entrance hall of Aquapalace Hotel Prague. The animals are not alive, but you can ride and race on them. Older children prefer a faster race, for example on a race track on the Sony PlayStation.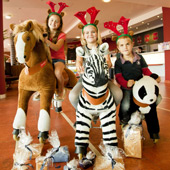 The variable conference space and also the option of closing off part of the restaurant thus make this the ideal place to hold various children's celebrations, parties, birthday parties, christenings and other types of festivities which our younger guests participate in. It will be our pleasure to prepare everything for you tailored to suit your requirements. Have fun with your children, leave the worries to us!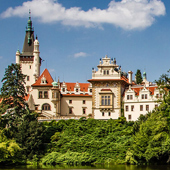 The Dendrological Garden, Průhonice Chateau and Forest Garden are located in the immediate vicinity of Aquapalace Hotel Prague.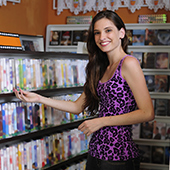 DVD rental
All hotel rooms are equipped with a DVD player. Hotel reception has a well-stocked DVD library with children's and adventure films which can be rented for a fee. Guests who have booked a room on the Executive floor have free film rental for the whole duration of their stay.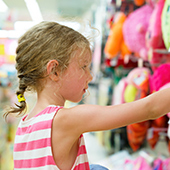 GIFT & TOY SHOP
Buy a gift in Aquapalace Prague and give a little happiness not only to your children, but also yourself or people you know. You can purchase a wide range of goods in the small shop located in the hotel lobby – toys, baby products, puzzles, building blocks, board games, sporting goods, traditional Czech souvenirs and products.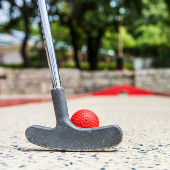 Enjoy minigolf fun at our 18-hole minigolf course for you.