Conference and Exhibition Facilities
Modern and technologically advanced spaces suitable for conferences, training courses, and exhibitions. The connection with the adjacent water park allows for a completely unique experience.
We provide professional, interactive online conferences or hybrid events thanks to superior technical equipment and a stable 300 mbps internet connection.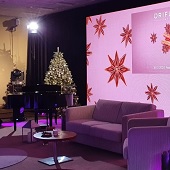 The variability of the conference space at Aquapalace Hotel Prague is exceptional and unique in terms of segmentation. We offer a total of 10 conference rooms with flexible layout and 4 lounges with areas ranging from 24 m2 to 500 m2...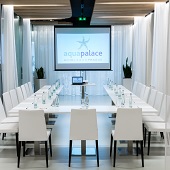 Send us your enquiry regarding holding of various corporate, social or private functions and events.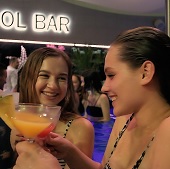 An accompanying event programme held right on location or nearby is an integral part of every successful corporate event or conference. Accompanying programmes can be focused on...
We provide the following to conference organisers:
Lighting control, projection and blackout of the halls in the form of built-in touch screens with the option of remote control
A projection screen with front projection
Remote control of Power Point presentations / laser pointer
Podium 1x2 m (10 combinable sections)
Speaker's stand (podium)
Microphones
Boards and notice boards
Notebook
Polycom conference telephone