Restaurantes & bares
Nuestra prioridad número uno son las fantasticas experiencias culinarias. Nuestro equipo de grandes cocineros, dirigido por la chef Mária Blom, se complace y esmera en prepararle una excelente cocina checa e internacional. Igualmente podrá disfrutar de nuestra excelente carta de postres.
La capacidad total de nuestros restaurantes es de 450 comensales.
SAINT MARTIN'S MENU AT THE TERRESA RESTAURANT
Warm up on St. Martin's month with a fabulous festive menu. Goose confit with cabbage or tender plum cake with poppy seed cream will certainly make the chilly November days more pleasant. Let yourself be tempted by autumnal flavors in our timeless and pleasant restaurant Terresa.
We look forward to seeing you ♥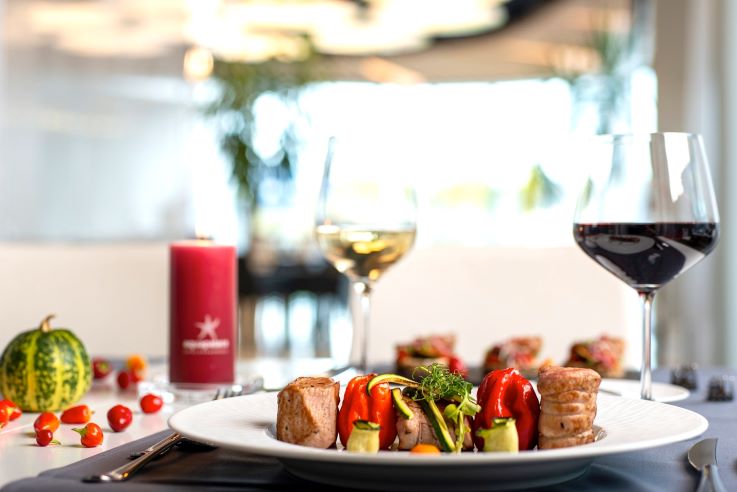 RESTAURANTE TERRESA
El restaurante Terresa es amplio y luminoso. Disfrute de platos de alta gastronomía a la carta. Los maravillosos postres de nuestra pastelería son una experiencia única. Por supuesto estaremos encantados en caso de que desee organizar un evento privado en nuestro restaurante.
Mon - Sun: from 12:00 a.m. until 11:00 p.m.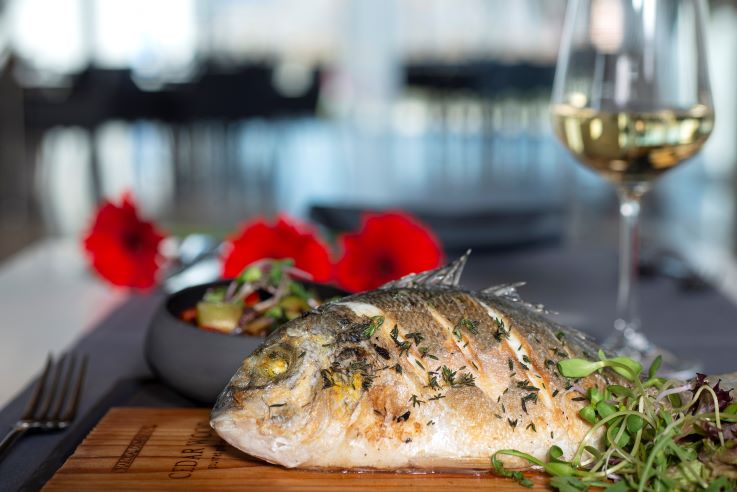 RESTAURANTE ASTRA
El Restaurante Astra ofrece cocina internacional con ingredientes frescos de alta calidad, servidos en forma de buffet. Al mismo tiempo, también puede disfrutar de nuestras especialidades checas. Durante varios años consecutivos, hemos sido galardonados con el certificado Czech Specials por nuestra reputada cocina checa tradicional, de concepción moderna. El restaurante Astra ofrece también un menú especial para los mas pequeños de la casa.
Mon - Sun: from 7:00 a.m. until 11:00 a.m. from 12:00 a.m. until 11:00 p.m.
LOBBY BAR BARRACUDA
Excelente café bar ofrece sándwiches, ensaladas ligeras, limonadas caseras y excelentes platos combinados. Siéntese en un ambiente agradable a cualquier hora del día.
Mon - Sun: from 8:00 a.m. until 01:00 a.m.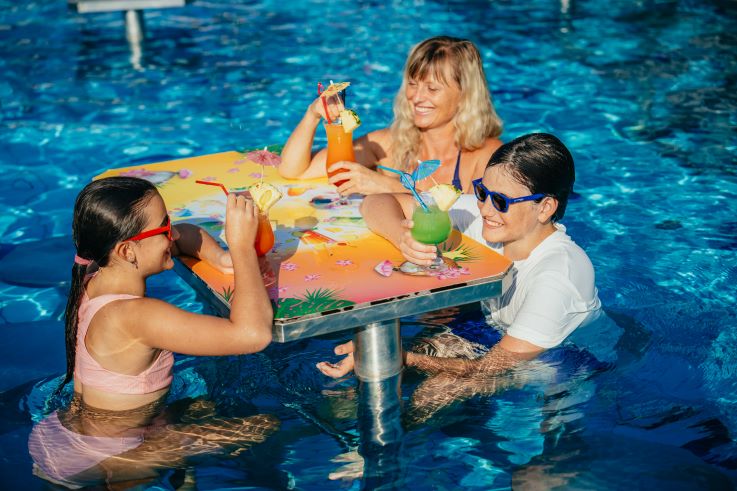 BARES Y RESTAURANTES EN EL PARQUE ACUÁTICO
En los palacios del Mundo Acuático y del Mundo Sauna, hay varios restaurantes y bares con una rica selección de platos fríos y calientes. Experimente la atmósfera de Grecia, disfrute de bebidas exóticas bajo las palmeras o refrésquese con nuestros deliciosos helados. El placer gastronómico espera a padres e hijos.
CONOZCA MAS