Información sobre el alojamiento
Aquapalace Hotel Prague is part of an exceptional European water park. The 231 rooms in the 4* Superior category provide a pleasant experience for families with children or a comfortable base for wellness stays. Executive rooms with many benefits are designed not only for business trips. Two hotel restaurants serve excellent Czech and international cuisine. An integral part of the hotel is a modern and technologically advanced conference center with 11 variable halls and lounges, which is suitable for conferences, exhibitions, and other corporate meetings. In addition, the direct connection with the water park allows for a completely unique experience.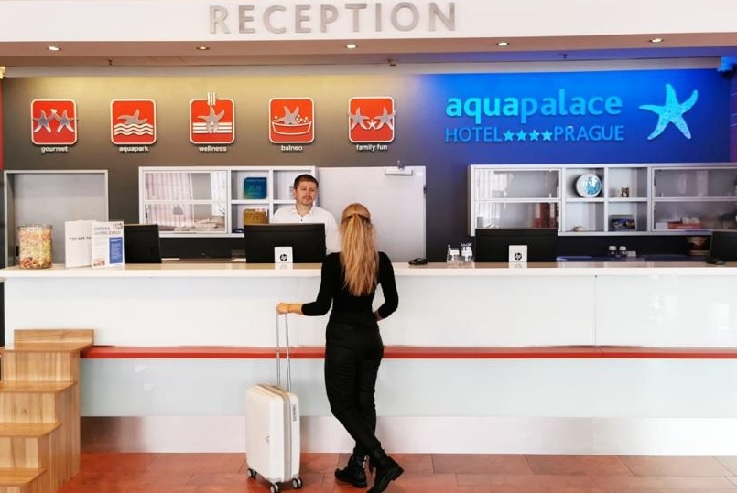 CHECK - IN from 14:00 hod
CHECK - OUT until 11:00 hod
SAFETY DEPOSIT
During CHECK-IN you will need to leave a security deposit, either with a payment card or in cash. This deposit will enable a so-called open hotel account and allow you to receive a chip watch to enter the Water Park. The minimum deposit is 1,300 Czech crowns (50 Euros), and is adjusted according to the length of your stay.
IMPORTANT PAYMENT INFORMATION
We do not accept EUR 500 banknotes for payments or security deposits.
Thank you for your understanding.
PARKING
Prices apply from 1.1.2022.
Hotel garage – 300 Czech crowns/night
Parking garages P1 and P2 – 100 Czech crowns/day *
Please pay parking fees at the hotel reception.
* Parking garages - when paying parking in P1/P2/P3 parking machines an extra charge of 200 Czech crowns/ night is charged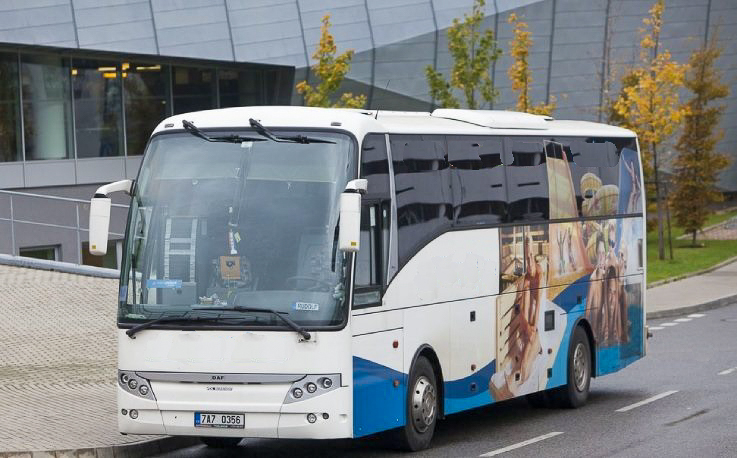 BUS TRANSPORT TO THE HOTEL
From 1.7.2022, our Aquabus will replaced by the more frequently running bus connections of the Prague transportation system

Line No. 385 "AQUAPALACE EXPRESS" – from the Opatov metro station to the Čestlice - Aquapark stop.
Lines No. 328, 357, and 363 – from the Opatov metro station to the Čestlice - V Oblouku stop.
Lines No. 401, 402, and 406 – from the Roztyly metro station to the Čestlice - V Oblouku stop.
Fares are determinated by the current prices of the Prague transport system.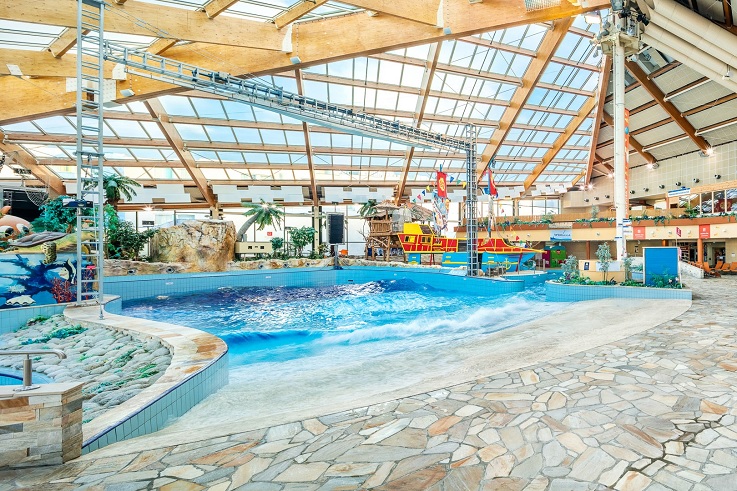 WIFI
Free connection throughout the hotel, network: Aquapalace Hotel, connection without password.
PET-FRIENDLY
Pets allowed - fee 780 CZK/day.
SMOKING
Smoking is strictly prohibited throughout the hotel.
AQUAPARK - important information
OPENING HOURS OF THE WATER PARK FROM 31. 10. 2022
| | | |
| --- | --- | --- |
|   | MONDAY - THURSDAY | FRIDAY |
| WATER WORLD | 10.00 - 20.00 | 10.00 - 22.00 |
| | | |
| --- | --- | --- |
|   | SATURDAY | SUNDAY |
| WATER WORLD | 09.00 - 22.00 | 09.00 - 20.00 |
| | | |
| --- | --- | --- |
|   | MONDAY - FRIDAY | SATURDAY AND SUNDAY |
| SAUNA WORLD | 9.00 - 23.00 | 9.00 - 23.00 |
| FITNESS | 6.00 - 23.00 | 8.00 - 23.00 |
| SPA | 9.00 - 21.00 | 9.00 - 21.00 |

IMPORTANT INFORMATION FOR ACCOMMODATED GUESTS:
WATER PARK – ENTRY
The entrance to the water park is located on the ground floor. Access to the water park and all payments in the water park area are only possible with a chip watch. During your stay you can enter and leave the water park without limit.
For all types of rooms, entry to the water park is possible for the duration of your stay at the hotel, i.e. from 14:00. on the day of arrival after check-in and on the day of departure according to the opening hours of the water park. On the last day of your stay, one more one-time visit is possible after check-out. Once the visitor leaves the water park, he or she cannot return.
Depending on availability, we will be happy to allow earlier check-in and later check-out:
EXECUTIVE or SUITE room FREE OF CHARGE,
SUPERIOR room for an additional fee.
SAUNA WORLD
Part of the Water World, with an additional charge of 149 Czech crowns/person/day (in case entry is not included in the price of accommodation); the chip watch is charged.
LOSS OF THE CHIP
If you lose your chip, please inform the hotel reception immediately to block it (to prevent another person from using your account). The fee for the loss of the chip: 200 Czech crowns.
BATHROBES/TOWELS
Bathrobes and towels can be rented directly in the water park according to the price list. For hotel guests these are available during their stay free of charge – bathrobes, however, only in adult sizes. On the day of departure you can borrow the bathrobes and towels from your room for free, but you should report this at the hotel reception upon check-out. Returning borrowed items is ONLY possible at the hotel reception.