SPRING HOLIDAYS - BONUS half board for children for FREE!
Enjoy a special spring vacation full of games and amazing experiences with your children! Plus: FREE HALF BOARD FOR CHILDREN!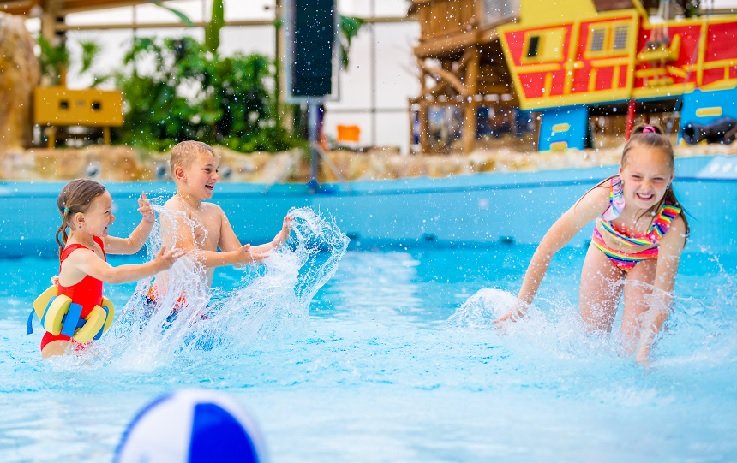 Children will not experience such a Spring holiday anywhere else! Whether you come for a few days or a week, plenty of exceptional entertainment and games for children await you. Swimming in the waves of the sea, pure joy on the water slides, a laser show above the water's surface, or weekend programs with a magician, plus a dose of adrenaline during water parkour or a weekend with the Lollipopz music group.
Special BONUS: FREE half board for children!
Book an extraordinary spring vacation at Aquapalace Hotel Prague and don't forget to take advantage of a special BONUS: FREE HALF BOARD FOR CHILDREN.
We have prepared for you:
accommodation with a rich buffet breakfast
free, all-day unlimited entry to the Aquapalace Prague water park*
free, all-day unlimited entry to the modern, two-story Fitness Center
bathrobes (for adults) are available free of charge in your room during your entire stay
free WiFi in public areas of the hotel
half board - buffet dinner including one drink per person (1 glass of wine or beer or soft drink) HALF BOARD FOR CHILDREN up to 12.99 years of age FREE under this offer**. It is only valid when purchasing half board for other individuals according to the selected room. Half board must be ordered in advance as part of the reservation (the bonus cannot be used when ordering half board on the spot).
Programs for children:
laser show above the water's surface every day
4 - 5. 2. water parkour (for an additional fee), 11. 2. Kája and Bambuláček, 18. 2. Magician, 25. 2. Lollipopz, 4. 3. Bubble maker, 11. 3. Magician, 18. - 19. 3. water parkour (extra charge)
Additional relaxation options (for an additional fee):
entrance to the Sauna World (if not included in the selected room type)
relaxation in the SPA - massages, baths, cosmetics, or balneo treatments
This offer can be combined with a 20% or 15% discount for early booking!
*) Free, all-day unlimited entry to the Aquapalace Prague water park on the day of arrival from 2:00 p.m.; the following days incl. on the day of departure according to the opening hours of the water park.
**) Free half board for children is valid for children up to 12.99 years old for new bookings only as part of this special offer, booked from 11. 01. 2023 for dates from 29. 01. until 19. 3. 2023 inclusive.
The offer is valid until capacity is sold out. We reserve the right that the program may be changed in case of necessity.
We are pleased to be at your disposal if you need further information or help.
Email: reservation@aquapalacehotel.cz or phone: +420 225 108 828.