SPECIAL OFFER WITH HALF BOARD
Extend your summer, because September is simply the best in Aquapalace. Freer days start, lots of space await you, great prices, and pleasant weather, plus special bonuses.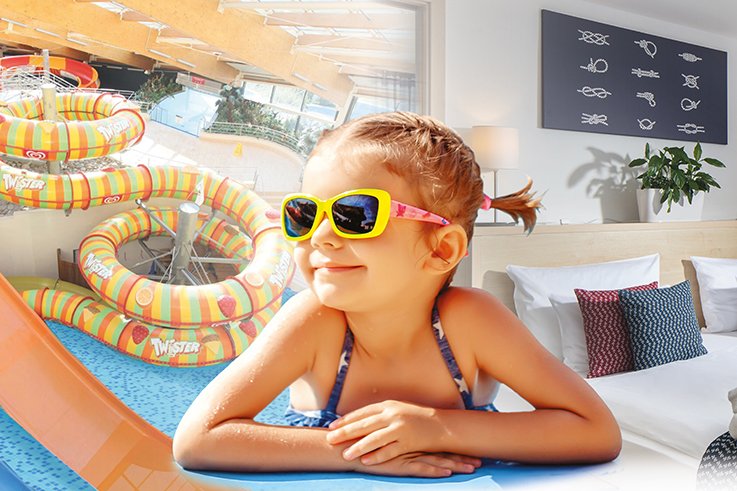 September has many benefits for everyone who doesn't want to say goodbye to summer just yet: lots of space, great prices, nice weather, fun, and relaxation, as well as bonuses and a special offer with half board:
SPECIAL OFFER WITH FREE HALF BOARD FOR CHILDREN includes:
Accommodation with a rich breakfast buffet
Free all-day, unlimited entry to the Aquapalace Prague water park*
Free all-day, unlimited access to the modern two-story fitness center
Free-of-charge bathrobes available in your room during your entire stay
Free transport by aquabus to the Opatov metro station and back
Free-of-charge WiFi in public areas of the hotel.
FREE HALF BOARD FOR CHILDREN!
A VOUCHER WORTH 15 EUROS IN HOTEL SERVICES FOR STAYS OF 2 OR MORE NIGHTS.
Plus, don't forget that there is still a 20% discount for stays booked at least 14 days before arrival! How about an extended weekend on 24-28 September 2021? Information about the discount here.
Validity of the special offer:
Half board for children free of charge – valid for children up to 12,99 years old and for new bookings made from 20.8.2021 only within this special offer and for dates from 29.8. to 30.9.2021 incl. This special offer also includes half board for children over 13 years and adults.
You will receive vouchers worth EUR 15 for stays till 30.9.2021 of 2 or more nights (also as part of accommodation packages), which were newly booked from 12.7.2021. Vouchers can also be used during other stays (accommodation) until 30.9.2022 for hotel services, such as partial payment for accommodation, restaurant services, etc. It is not possible to use for the services of the water park.
Free cancellation is possible until 23:59 (local time) 1 day before arrival. In case of a later cancellation, a late arrival, or a no-show, a cancellation fee of the total price of the first night will be charged. Detailed cancellation conditions can be found here.
The offer is valid until capacity is sold out.